How to Use the Library

LIBRARY STAFF
Patricia Stroud – Director of Libraries - 304 723-7517- pstroud@wvncc.edu
---------------------------
Weirton LRC – 304 723-7516
Nancy Nosko – Library Technical Assistant – 304 723-7518 nnosko@wvncc.edu
Wheeling LRC – 304 214-8954
Tillie Ossman – Part-time Library Technical Assistant – 304 214-8954 – tossman@wvncc.edu
New Martinsville LRC – 304 510-8766
Lee Ann Blair – Staff Librarian 304 510-8781 lblair@wvncc.edu
------------------------------
(Click on images to make them larger)
West Virginia Northern Community College has three campuses (Wheeling, Weirton, and New Martinsville) with a Library/Learning Resource Center on each campus. All three libraries have a collection of about 27,000 items. Please use the Library Books and More @ Northern to find specific items that the library owns. It is important when using Library Books and More @ Northern to refer to the item that the campus is on. The library will ship the item to the campus that you are near and you can check the item out from there.
From the library's web page you will be able to access the Library Books and More @ Northern and our electronic databases. You can also access these resources from the College Portal Pages. Use your log in and select the Library Button. This will take you to the Library Portal Page with access to our resources.
LIBRARY WEB PAGE
Access to our library catalog, databases, and other online resources can be found on the Library Web Page and in the portals.
Go to the College Web Page - Look for Library under Quick Links. You can also use your Student or Faculty Portal. Just log into your portal and click on the Library link. This takes you to the Library Portal Page which has links to the library databases and the Library Web Page.

Library Web Page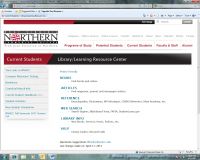 Books – will take you to Library Books and More & Northern a catalog of our resources. Also listed on this page will be links to other important resources from books including WorldCat and our collection of online reference books, Credo Reference
Articles – will take you to our group of online databases. Here you will find full text articles from newspapers, magazines, and journals.
Reference – Credo Reference has a link here along with links to other online reference materials including WV Infodepot and the Britannica encyclopedia.
Web Search – has links to Blackboard Vista, FAFSA, and other search engines
Library Info and Help – will take you to more library information.
BOOKS and Library Books @More at Northern
In the process of doing research, you may need to use information from books. Libraries have online catalogs to search for the books available in their libraries. Our catalog is the Library Books and More @ Northern and can be found from the Library Web Page by clicking the link under the Books link.
The first link is the link to our catalog of items – Library Books and More @ Northern Some other options to find books on this page are:
West Virginia Public Libraries – this searches all the collections of the libraries in the Northern half of West Virginia. Search a library near you to find resources.
WorldCat – use this database to search for resources in libraries outside of West Virginia, worldwide.

The others are links to resources about more information on books from the Library of Congress to the last three links on the page that will take you to online eBook collections. There is also a link here for Credo Reference.
CREDO REFERENCE – has hundreds of reference books (over 700) covering every major topic including art, medicine, history, technology, literature, and more. The collection features over 3 million entries, 200,000 audio pronunciation files; 40,000+ art, science, and medical images; and 90,000 atlas images of places and geographic features throughout the world.
Access Credo Reference on the Library Web Page from Books, Articles, or Reference

Search by keyword including advanced searching, or by each individual reference book (Find a Book).
Credo Reference should be used to find information about your topic from some of the world's best and most respected reference publishers. From here you can get your background information, statistics, a biography, or image to use in your research, you can then link directly to articles from newspapers, magazines, and journals in our databases to continue with your research or you could go directly to another database by using the Related Resources link on the left of the page.
ONLINE DATABASES
The Library Web Page gives you access to several different online databases that contain reference material, newspaper articles, and magazine and journal articles – many are in full text.
To access these databases; go to the Library Web Page Then click on the Articles button or use the .
The following page listing the databases will appear: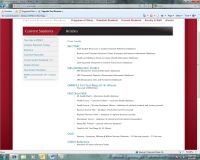 These are the database companies that are available to you; Infotrac/Gale, Sirs Knowledge Source, EBSCOhost Web, Lexis Nexis Academic, and Ovid. Credo Reference also has a link here. Some contain one large database to search; others have several different databases for you to choose from. Each will search and look a little different, but with some practice you should be able to find much of the information that you will need to complete your research projects here at WVNCC. All materials are from reputable publishers and are in well known publications.
In the Infotrac group you will find the Powersearch available from the opening screen. You may also just choose one of the databases to search. The Student Resources in Centext is a large database of information on general topics including a lot of information on topics in Literature, including authors, plays, and works of literature. The Business and Company Resource Center covers the area of economics and business topics and the Health and Wellness Resource Center is good for medical topics. Opposing Viewpoints is found here and is an excellent resource for pro/con issues
Sirs Knowledge Source is also excellent for this type of search on argumentative topica and has a lot of information from the federal government..
OVID contains full text articles from nursing journals. Be sure to use WVNCC Nursing Journals at Ovid for access to the full text
EBSCOHost contains many more databases including Academic Search Premier, MasterFile Premier and OMNIFILE Fulltext Meag is another large general information database. Our large eBook collection can also be found here -EBook Community College Collection
Lexis Nexis Academic - is a good resource for current events, business information, and anything concerning federal or state law.
Always remember to contact your instructor or the Library Staff if you need any assistance.