A Message from the President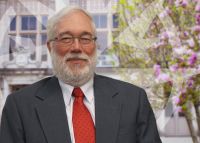 Welcome to West Virginia Northern Community College. As the compass in our logo indicates, we are here to help you find your direction. Whatever you are seeking in your college education, we can help you find it.
If you are looking for a certificate or associate's degree program that prepares you for immediate employment upon graduation, we have it. Northern has programs in health care, business, industrial technologies, information technologies, criminal justice, human services, and culinary arts to prepare you for exciting careers.
Is your ultimate goal a bachelor's degree? Northern is the ideal place to start as we have a number of programs that transfer to four-year institutions. We have numerous articulation agreements with regional colleges and universities which greatly facilitate the transfer process. By starting at Northern and taking advantage of the transfer programs, you can stay at home, save money and possibly continue working while taking classes.
Looking for classes conveniently located in the Northern Panhandle? Northern has you covered with campuses in Weirton, Wheeling, and New Martinsville. All three of our friendly campuses are attractive and equipped with instructional technologies that will assist your learning.
Do you have work or family responsibilities requiring flexible scheduling? Northern can help you with the wide variety of on-line courses and programs.
Affordability is an important consideration in mapping your college education. Northern is listed in the U.S. Department of Education List of Top 100 Community Colleges for Lowest Net Tuition in the nation. In addition, the financial aid department stands ready to assist students in applying for financial aid. Northern also offers a large number of scholarship opportunities.
Maybe you are looking for a college where you can participate in student organizations. At Northern, you'll find a wide array of student activities to enrich your college experience outside the classroom. Additionally, numerous student organizations provide you opportunities to expand leadership abilities, participate in discipline-related activities, and be involved in service opportunities, all while having fun.
As you navigate the college experience, you'll discover amazing faculty and staff who are committed to helping you succeed. Northern has excellent faculty who are experts in their fields, and most faculty in the technical fields have industry experience which allows them to connect the classroom to the work environment. The friendly staff on all campuses care about you as an individual and are here to help you along the way.
Whatever direction you are going in, we are here to help you. Accessible classes, affordable education, expert faculty, caring staff, quality programs for a career or further education, a variety of student activities – Northern has what you're seeking.
We are glad you are here and we look forward to helping you to find your direction and achieve your goals.
Welcome,
Michael Koon
Interim President