Academic Support Center
---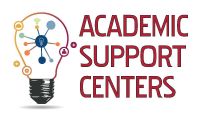 304.214.8923 / asc@wvncc.edu
ASC Mission:
To empower students to become successful lifelong, and independent learners.
---
WE NEED YOUR HELP!
Share your ASC experience with us. Your feedback is critical to the success of our Centers. FEEDBACK PLEASE CLICK HERE!
---
ASC Goals:
Provide interactive academic spaces to reinforce and extend student learning
Provide a variety of holistic and comprehensive support services and programs that enhance academic success, personal growth, retention, and graduation
Align programs and services with best practices in student learning theory and addressing diverse student learning needs
Uphold scholarly integrity and academic honesty in all learning center programs and service
Maintain a staff of learning center professionals who are consistently connected to the field of learning centers in higher education and learning assistance
To effectively brand and consistently promote the learning center virtually and on-campus
Maintain a process of consistent and continual review and quality improvement in programs/services - including analysis of strengths, challenges, and appropriate corrective actions - annually
---
Values:
Work Ethic & Tenacity
Communication & Interpersonal Development
Personal Growth & Responsibility
Life-Long Learning & Growth Mindset
---
ASC STAFF
---
Academic Support Centers (ASCs) are located on all WVNCC campuses. We provide holistic support services including, but not limited to:
Tutoring
Accessibility
Assistive Technology
Advising
Review & Retest Program
Retention Initiatives
Supplemental Instruction
First-Year Seminar (FYS) Program
Mental Health Programming & Services
Student Computer Lab
Computer/Brighspace D2L Assistance
Academic Recovery and Counseling
---
ASCs on Weirton and New Martinsville campuses also house tutoring, developmental fast track programs and accessibility services. Working closely with faculty and other student services staff, WVNCC Academic Support Centers seek to support the development of personal responsibility, self-management, and self-awareness that lead to academic, professional and personal success.
We strive to offer a comfortable, student-centered, learning-focused environment where students of all races, religions, ethnicities, sexual orientations, genders, ages, ancestries, marital statuses, parental status, and abilities are welcome. Peer and paraprofessional tutors help students with the acquisition of content knowledge, critical thinking, and learning/study skills.
Retention and student success initiatives and programs are designed to increase overall retention and graduation rates. The ultimate goal of each ASC is to support students as they become confident, independent learners who persist academically and professionally.
---
HELPFUL LINKS:
Chat with our team